Barista Basics - Gift Voucher - 3 hrs $120.00
Perfect gift for home baristas and those looking for a job as a barista
---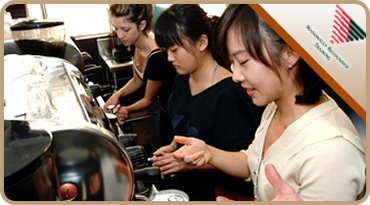 Barista Basics is $120 and is 3 hours in duration.
It is a 3-hour barista experience that actually teaches you how to identify all the key variables that go into making espresso-based coffee then moves on to instruct you on putting all of those variables together at speed to make excellent finished coffees.
The key variables that go into making espresso-based coffee:
Amongst other things;

using fresh coffee

using the right amount of coffee

using the right particle size (grind of the coffee)

using the right group handle

tamping correctly

having the right programming on the volumetric keypads on the espresso machine, therefore getting the right volume of espresso

using the correct drinking vessel to pour

using the correct milk texturing techniques

executing the pour properly and promptly after extracting the espresso

presenting the finished coffees properly

using a clean espresso machine/grinder with the right temperature and pressure
Barista Basics has evolved over the last 5 years. What started as a "learn to froth, adjust the grind and make coffee" course has now extended well beyond that into a power session that combines cutting-edge barista techniques with expert knowledge and advice.
Our aim is simple: to teach espresso using the national framework whilst maintaining the Italian espresso roots.
Whether you are looking for an immediate job or simply searching for espresso excellence, this course is for you. We have developed this course in conjunction with representatives from the coffee industry as well as representatives from educational bodies such as TAFE.
What Barista Basics is:
intensive and hands-on

jam-packed with information

an "experience"

a package integrating training and knowledge which culminates in a nationally recognised certificate

a course conducted by some of the finest talent in the espresso industry today
What Barista Basics is not:
a cruisy, froth-and-giggle course that merely scratches the surface on only the basics (you will find plenty of CBD coffee school starter courses that specialise in that)
Other information:
Who the course will appeal to
More than just the basics, this course is designed for the following people:
people who have no experience yet need firstly a skill and secondly a government-accredited barista certificate to help them get a job

people who have used an espresso machine previously but who lack proper instruction on the finer aspects of making coffee

people who love coffee and want to learn more about it (including how it is grown, cultivated, roasted and blended) and

people who want to know why most coffees they buy are terrible yet some are fantastic. In other words - what are the true secrets to being a gun barista?
What you will get upon completion
RTO Statement of Attainment
As well as essential skills, BARISTA BASICS™ will also provide you with a certificate bearing the unit of competency codes and names SITHFAB025 Prepare and serve espresso coffee and SITXFSA005 Use hygienic practices for food safety.

Barista Basics Certificate
Barista Basics certificates have helped baristas around the world find employment. This is attained when you complete Barista Basics.

How to Make Every Coffee on a Coffee Menu movie
All the coffees on the coffee menu are demonstrated on the movie, so you can go straight home and recap what you have practiced in the course.

Written Coffee Menu
A written coffee menu listing the ingredients of all of the major coffee drinks will also be handed to students during the class.

Ebook: How to Get a Job as a Barista
Through their experience of owning and operating four espresso bars, Barista Basics Coffee Academy owners David Gee and Matthew Gee have put together an invaluable guide to getting a job as a barista. Their ebook contains the following:
How to get a job as a barista

More specific tips on creating a resume

Interview Tips

Example of Cover Letter

Example of Resume

Keeping your job as a Barista

A final word on being a barista
You will get this upon enrolling in Barista Basics.

Access to our job websites and ongoing education websites
David and Matthew Gee have created some of the hottest job and social networking sites in the world. Learn more about them and how to get access to them in the class.
One to Four Instructors
One to four instructors are present, depending on class size, at all courses to provide feedback to students and to oversee their operation of the espresso machine.
No "lining up" to wait for machines
We use 3 group and 2 group Italian espresso machines that have at least two groups steam wands and are designed for at least two operators. This means that everybody gets their own equipment to use and there is no sharing with anyone else in the class. Barista Basics therefore offers a level of practical experience that is unrivalled by any other coffee school.
Locations
We are in the heart of Sydney, Melbourne and Brisbane CBDs:

Sydney:
Ground Floor, 10 Quay St, Haymarket NSW 2000

Melbourne:
L3, 55 Swanston St, Melbourne VIC 3000

Brisbane:
Ground Floor Suite 3, Ladhope Chambers, 131 Wickham Terrace, Spring Hill (just behind Central train station).
Cancellation Policy
We are unable to refund monies for students who do not turn up for coffee classes or decide at a later date after booking that that they do not want to attend. Changes to class times are allowed, but not within 48 hours of the class commencing.
Students With Special Needs
Please discuss any health issues which may affect your training and assessment with the instructor prior to attending. Candidates with special needs are advised to email info@cbdcollege.edu.au prior to booking so that reasonable adjustments to training and assessment can be contemplated.
Customer Feedback
In an effort to continually improve our services and use the most updated training methods, we encourage feedback.We will email a feedback form for you to fill out after your course is complete. Feedback is also welcome at info@baristabasics.com.au or by calling us on 1300 366 218.
Access to Student Records
Students or past students may inspect their own files under supervision by arrangement with CBD College. If a student wishes to inspect his/her own file, they may apply in writing to CBD College for permission to do so, stating the reasons for the request. Information can only be supplied to the student, not another person, unless the student has given written permission which can be verified.
Training
Our trainers are all effective communicators with qualifications as set down by the Australian Government as well as experienced baristas. Methods of training will include oral delivery, use of powerpoint presentations run on LCD screen TVs incorporating video footage, "live" practical demonstrations by trainers and one-on-one interaction by trainers with students using the espresso machine.
Assessment
Students will be assessed by trainers with the relevant qualifications as set down by the Australian Government. This assessment will take the form of direct observation of practical tasks and written questioning.
TAFE Statement of Attainment Lead Time
The TAFE certificate and transcripts etc are mailed direct to students from the TAFE within 4 weeks of the course date. Students will fill out the appropriate forms to enable them to get these certificates and transcripts on the day of the course. Please note that students on temporary visas will need to bring their actual visas on the day of their course for a trainer to sight and the correct the sub-class will need to be listed on the TAFE enrolment forms.
---
Barista Basics - Gift Voucher - 3 hrs - $120.00