Vibiemme Domobar Super Lever - Stainless Steel - $2,999
Vibiemme (pronounced "vee*bee*em")
The choice at home for David Gee & Matthew Gee
Also Available:
KS Grinder - $649
For only $7 we ship to anywhere in Australia.
'Domobar' literally translates into 'home bar' and 'super' was added because this model has 'on demand' steam functionality and because of the super reliability and super components inside.
Made in Italy, the Domobar offers a premium end home espresso machine at an affordable price. With its commercial E61 group, the Domobar is capable of great espresso & creamy commercial style milk.
This is the choice of Matthew and David Gee at home. They have both owned one of these machines since September of 2007 and can vouch for their ability to perform. Talk about superior coffee! Used properly, this espresso machine will provide you with better coffee than you will find in most cafes. Life is too short to suffer poor espresso. So go and grab a KS grinder, a bag of full roast Ethiopian and extract away. You will not look back! Call us on 1300 366 218 to arrange for a demo in our Brisbane, Melbourne or Sydney training rooms.
Key features;
Made in

Italy

Weight- 28 kg

Commercial E61 group

4 litre self fill water tank

Parker commercial pressure & system pressure gauge

Anti vacuum valve & non return steam valve

Vibration pump with bleed valve & system pressure gauge

1800 watt heating element

Water level probe & manual reset thermo switch

2.7 litre copper & brass end plate boiler
Order now and receive a
Free Barista Basics Value Pack
(save up to $350)
2 x Barista Basics Coffee Academy Courses or 1 x Ultimate Barista Pack (3 x DVDs & Book)

1 x Stainless Steel Knock Box
---
---
---
The Facts
The DOMOBAR was the first domestic machine to provide coffee enthusiast with commercial performance in the comfort of their home. It was developed in 1983 from a small espresso machine using the E61 group head.

Vibiemme of Milano, Italy, was started by Mr Carlo Valente who also founded FAEMA. Mr Valente first introduced the revolutionary water charge-infusion-discharge E61 group head in 1961. The patent is held by Vibiemme today and it is the most commonly used group heads by leading espresso machine manufacturers around the world today. It is user friendly with excellent heat characteristics resulting in superb quality espresso.
Features include; dual system pressure gauges, user handles on the ample sized drip and cup trays, solid chromed metal feet with bottom rubber stoppers, exterior AISI 304A stainless steel panels or mild metal gloss black side and back panel. Technical specs include; 2.7 litre copper and brass boiler, Parker commercial pressure stat, ½-inch Ø group pipes, pump regulatory bleed valve and a three position barrel power switch.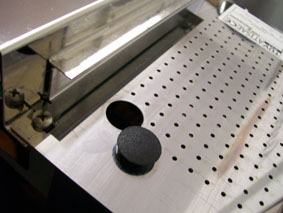 The open aperture links the commercial pressure stat with adjustment screw making changing the boiler pressure very easy.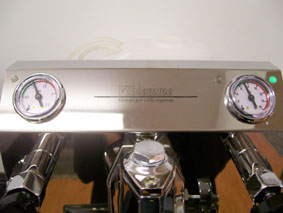 Three indicator lights are used. The orange light by the boiler gauge illuminates when the element is active and heating. The light on the left side of the brew pressure gauge is for low water reservoir and green on the right side indicates power.
The boiler safety and protection features include; thermal cut off switch, water level probe, over pressure safety valve and non return valve in steam valve assembly.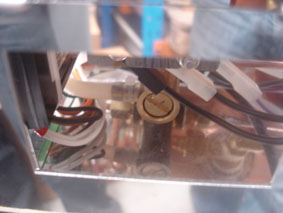 The Over Pressure Value adjustment screw is a great aid to adjust and regulate group extraction pressure over time. Excessive pressure is leaked back into the water reservoir.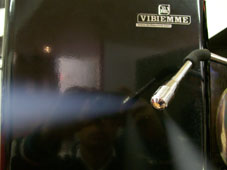 The steam volume from the 2.7 litre boiler is driven through a chromed brass wand with two hole tip (can be fitted with four hole as shown) on a 360º ball joint. The steam valve assembly is 1/2-turn open/clased operation with a fitted non-return spring and ball.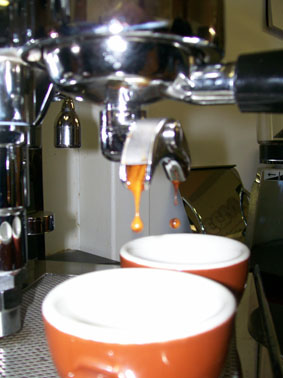 There is a single and double pour group handles included (8 gram and 16 gram baskets) and a blind filter and group head brush are included as standard.
(with thanks to Salvatore Savarino for his help with this information and photos)